grave of ishikawa takuboku family, graveyard doll
grave of ishikawa takuboku family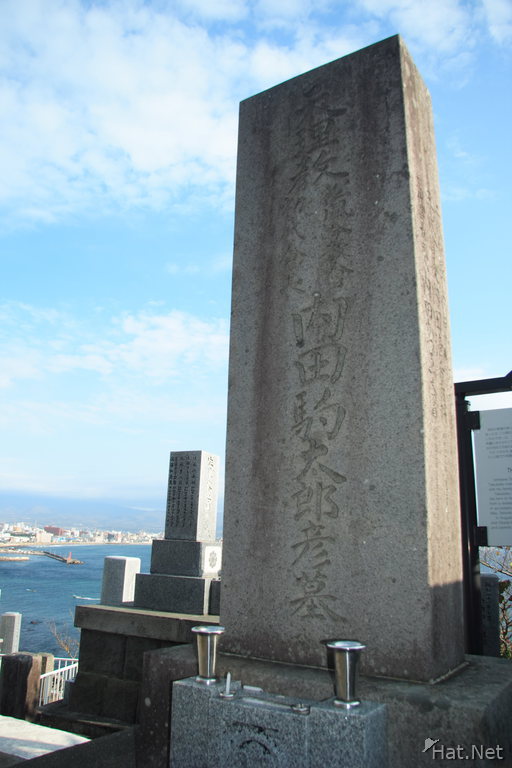 Finally I found the tomb of Ishikawa Takuboku. As expected, he was very important because there was a large paragraph of text in English and Japanese dedicated to him.
According to the text, he was a brilliant and renowned poet of the Meiji era and had close connections with Hakodate. He lived there only a short time from May to September in 1907. During his stay he lived together with his family, and spent a cozy life with the warm support of a literary group called "Bokushukusha." Takuboku liked the people and atmosphere of Hakodate so much that he once remarked, "I'd like to die here in Hakodate..." However, on April 1912 his life of 27 years came to a close in Tokyo, suffering from a disease.
In accordance to his wife's wish, Takuboku's ashes were brought to Hakodate in March 1913. Then in May, Setsuko passed away only a month or so later, as if to follow her late husband.
In August 1926 his grave was erected by both Miyazaki Ikuu, his brother-in-law, who was also a poet, and Okada Kenzo, the chief of Hakodate Library then. Takuboku and his wife, three beloved children and parents are all lying in eternal sleep there, listening to sea roars of the Tsugaru Straits.
As usual, I took the picture, record the location and copied the text in my PDA. But later, to my horror, I found out I took the wrong picture. They really should put the text closer to his tomb, not next to someone else tomb.
Direction
Same location as last photo
Info
F 5.6 1/100 ISO 100 with Canon EOS DIGITAL REBEL XT
Date
2006:10:31 08:50:56
Make
Canon
Model
Canon EOS DIGITAL REBEL XT
Width
2304
Height
3456
Flash
On, Fired
Focal
17.0 mm
Exposure
1/100
F Number
5.6
ISO
100
White Bal.
Manual
Program
Aperture-priority AE
Compensation
0
Hyperfocal
2.79 m
Latitude
41.7471666666667
Longitude
140.719833333333
Altitude
0 m
File Size
748 kB
comments powered by

Disqus