hallway of old hakodate public hall, hakodate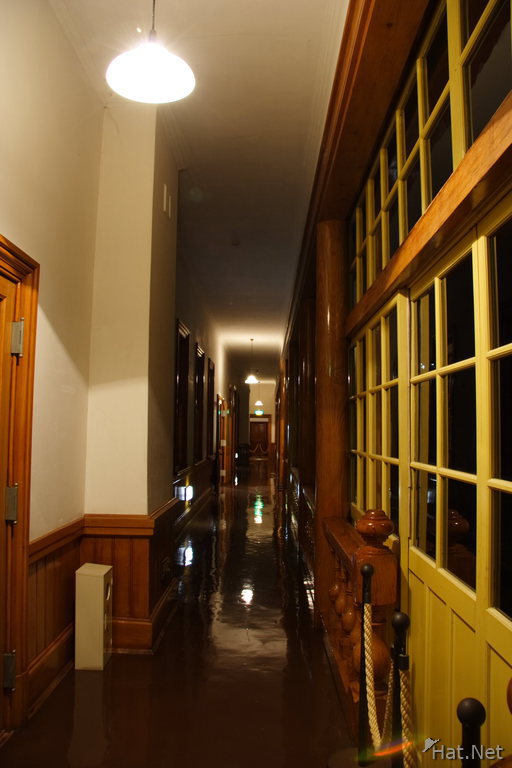 The old Teramachi (the town of temples) area From the Edo period to early part of the Meiji period, the three Buddhist temples; Jogenji, Shomyoji, and Jitsugyoji were located side by side in this area. This area was thus bustling with 'many people visiting these temples for worship. So it was called Teramaohi (The town of temples).
For a while after Hakodate port was opened to foreign vessels, these temples were used as temporary residences for the British consul, the, American consul and the Russian consul. In 1872.
The headquarters of the old police department was located in Jogenji Temple. and it was also used as Emperor Meiji's temporary quarters when he visited Hakodate in 1876.
After the great fire in 1879, these three temple's rebuilt in other places. On the site of the old Jogenji Temple and the old Shomyoji Temple, Yayoi Primary School was built in 1882.
the famous Japanese poet, Ishikawa Takuboku once taught as a substitute teacher here.
Furthermore, this school is the alma mater of the famous literary critic Kamei Katsuichiro. The Dresent school was rebuilt in 1938.
Text by City of Hakodate
Direction
Walk 0.06 km or 1 mins south west from last photo
Info
F 6.3 2 ISO 100 with Canon EOS DIGITAL REBEL XT
Date
2006:10:31 18:21:37
Make
Canon
Model
Canon EOS DIGITAL REBEL XT
Width
2304
Height
3456
Flash
Off, Did not fire
Focal
17.0 mm
Exposure
2
F Number
6.3
ISO
100
White Bal.
Auto
Program
Aperture-priority AE
Compensation
0
Hyperfocal
2.48 m
Latitude
41.765
Longitude
140.709
Altitude
0 m
File Size
735 kB
comments powered by

Disqus