the russian orthodox church, sleepless nights
the russian orthodox church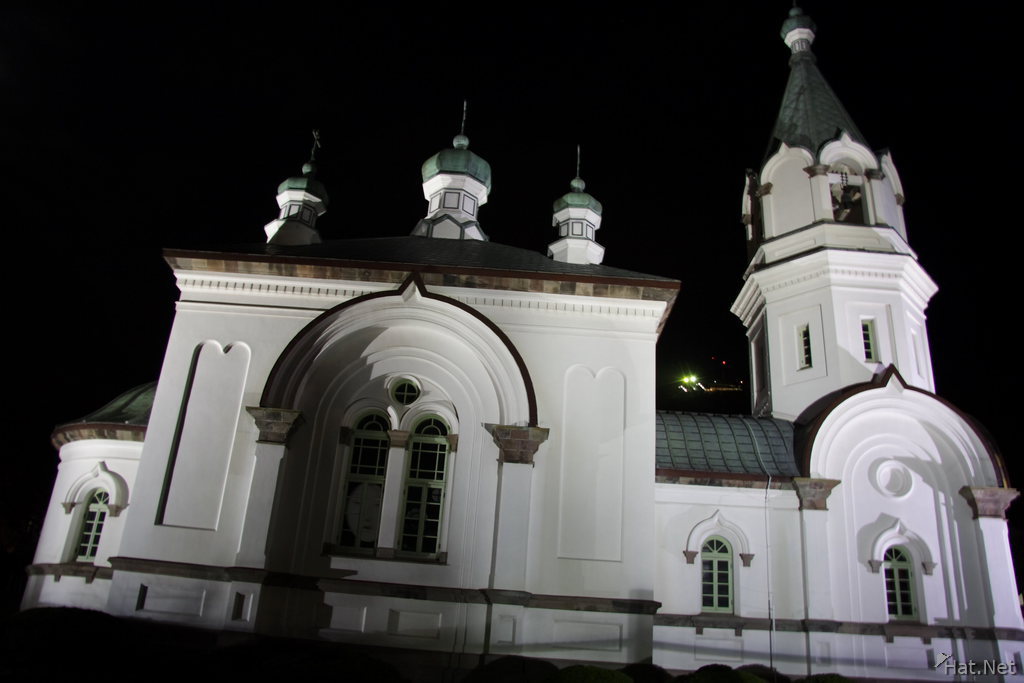 This dates from 1859 when It was built as a temple attached to the first Russian Consulate. It was formerly called "Hakodate Sanctuary of the Resurrection."
In 1869 the young priest Nicholel came to Hakodate from Russia to propagate the Russian Orthodox Church for the first time in Japan after the embargo on early Christianity in Japan was removed. (He was transferred to Tokyo in 1872.)
In 1907 it suffered a disastrous fire and was rebuilt in 1916 in the Russian Byzantine style of architecture. The domed celling inside this temple was of characteristic design. The crown-like structure with many crosses on the roofs and decorations is unique. The green copper roof was repaired in 1968 and the blue-green hue was created chemically.
The two ton bell was moved to Nicholei Hall in Tokyo which had been damaged by Kanto Earthquake in 1923. It was exchanged for 6 bells, large and small. People loved this church and called it "Gangandera" meaning the melody of ringing bells. These bells were handed over to the government use during the war.
The present bell was given by a master caster from kuwana city in Mie prefecture in June 1983.
This church was designated as an important cultural asset in June 1983.
Text by the city of hakodate
Direction
Walk 0.37 km or 6 mins south east from last photo
Info
F 5.6 2 ISO 100 with Canon EOS DIGITAL REBEL XT
Date
2006:10:31 19:01:13
Make
Canon
Model
Canon EOS DIGITAL REBEL XT
Width
3456
Height
2304
Flash
Off, Did not fire
Focal
17.0 mm
Exposure
2
F Number
5.6
ISO
100
White Bal.
Auto
Program
Aperture-priority AE
Compensation
0
Hyperfocal
2.79 m
Latitude
41.7628333333333
Longitude
140.712333333333
Altitude
0 m
File Size
520 kB
comments powered by

Disqus